Turkish Journal of Computer and Mathematics Education (TURCOMAT)
e-ISSN 1309-4653 | Period Tri-annual | Founded: 2009 | Publisher Turkbilmat Egitim Hizmetleri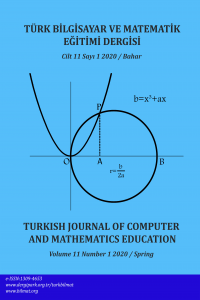 Total Views: 136.817
Total Downloads: 526.583
TR Dizin Citation Count: 238
Citation Analysis:
SCOPUS
Google Scholar
Announcement: Turkish Journal of Computer and Mathematics Education continues its publication life in the new web interface from Volume 12, Issue 1 (2021). Authors are requested to submit their manuscripts on https://turcomat.org/index.php/turkbilmat. The articles published before Volume 12, Issue 1 will be available on Dergipark interface as well as the new interface. For any queries, request you to contact editor@turcomat.org.

Turkish Journal of Computer and Mathematics Education (TURCOMAT) is an international refereed (peer-reviewed) journal and published three issues per year (April, August and December) by TURKBILMAT Education Services. The Journal publishes educational researches related to mathematics education (See focus and scope). The journal is devoted to action researcher mathematics teachers, teacher educators, researchers, computer education and mathematics teacher candidates, foundations and people who are interested in mathematics education.
e-ISSN 1309-4653 | Period Tri-annual | Founded: 2009 | Publisher Turkbilmat Egitim Hizmetleri
Call for Paper: July 2021 Issue | Papers Submission Deadline: 30 April 2021 Publication Date: 30th July 2021
Processing Charges: The Turkish Journal of Computer and Mathematics Education (TURCOMAT) is an fully open access journal. The published articles will be freely available to the journal's Website.
Scope: We can pose many appropriate research questions and conduct many innovative research studies in our field.
These fields mainly include the topics as below:


training in-service mathematics teachers on IT through in-service courses,
training pre-service mathematics teachers on IT through undergraduate programs,
understanding how students learn mathematics and solve problems,
identifying what student learn and think in mathematics,
assessing and evaluating mathematics curriculum,
designing and producing distance learning tools for teachers and students.


Turkish Journal of Computer and Mathematics Education (TURCOMAT) will contain articles on these topics or related issues with these topics. These topics are dynamic and open to change. TURCOMAT as a journal in this field is also undergoing change and development. This journal will include articles that are international, scholarly, refereed and organized by editors. Surely, this journal will grow with your supports as readers and researchers. We are enfusiastically waiting your manuscripts for next issues. We have greatly enjoyed reading the articles submitted to the current issue of this journal. We have also greatly enjoyed meeting new authors to discuss their research approaches and conclusions.